In this article, we will cover the differences between a domain name, a web hosting plan, and a website.
Here are the topics we'll discuss in this article.
What is a domain name?
The internet is a network connection capable of communicating with each other using a network protocol called TCP/IP. To identify themselves, the machines are assigned a numeric value called an IP address (for example, 123.12.123.12). Domain names were introduced as it is impossible to remember all those numbers for all the different sites. A domain name is a human-readable and memorable representation of an IP address. When someone types in a domain name like CloseCrowds.com, the browser communicates with a root domain name server that acts as a dictionary and provides the appropriate IP.
What do you see in a domain name?
A domain name consists of a top-level domain (TLD) and a second-level domain (SLD). In the domain name "closecrowds.com," the TLD is ".com," and the SLD is "closecrowds." The "HTTP" and "www" are not part of the domain name; they are part of the entire web address, called a URL. So, when you choose your domain name, you are only concerned with the TLD and SLD.
.com is just one of many TLDs from which you can choose. Your choices include variations such as .net, .org, .biz, .us, and many more you may have never seen. The major deciding factor when selecting a TLD is availability. For example, mystore.com may be taken while mystore.net may still be available. The second factor affecting your TLD choice may be price. A .cc domain is typically more expensive than a .com domain.
The SLD is where your creativity and originality come in. You may choose any name you like, as long as it does not infringe upon someone else's trademark. You may only use alphanumeric characters and hyphens, though hyphens can not be used adjacently. Symbols and blank spaces are also not permitted in domain names.
Acceptable domain names
mystore.com
my-store-4-u.com
MY-STORE.com
m-y-s-t-o-r-e.com
As you notice above, one of the domains contains capital letters. This is still acceptable since domain names are not case-sensitive. In other words, when you register "mystore.com," you also get "MYSTORE.COM," "MyStore.Com," "mySTore.com," and any other variation where lowercase and uppercase letters are interchanged.
Unacceptable domain names
my_store.com
my–store.com
my store.com
www.mystore.com
---
How to choose a domain name
When selecting your domain name, you should ask yourself:
What is the purpose of my website?
If this is a hobby site or a special interest site, you probably want your domain name related to the hobby or interest.
If your answer is "to make money," the next question is "doing what exactly?" You might consider including the name of the service or product you are selling in your domain name; this will help you get better traffic, especially from search engines. Although you may like mystore.com, it doesn't tell a potential visitor what you're selling. A name like rare-electronics-and-lamps.com is identifiable and contains keywords visitors will Google to find you.
What should I consider when choosing my domain?
The domain is your brand
Do you know that a good domain name defines your website's branding? Yes, choosing a domain is a branding opportunity! Your domain gives your website an edge in the vast online community and makes it stand out from the competition. For example, "closecrowds.com" sounds more catchy than "youaremyclosecrowds.com," doesn't it? It is because "closecrowds.com" stands for what we offer – web design – without using generic terms like "web design," which may only increase the competition when visitors are looking for the term "web design" online. Branding is business, you see. The more you stand out, the more visitors you attract!
The "first impression"
Once your visitors load your website on their browsers, the first thing they will notice is your domain name. If they see that your domain name "radiates" a good impression, they will likely stay on your website. If the domain name "sounds off," they just might scroll away.
Your domain affects SEO
It may sound too technical but don't fret. Simply put, SEO helps your website's ranking on the world wide web. It makes your site "more searchable." If it has a good domain name, it may even look and sound "more likable." SEO improves your site's visibility, thus garnering more attention and attracting potential customers.
---
It says I can't have the domain!
Getting the domain name you want can be frustrating if you realize what you want is already taken. If this happens, you may want to try submitting the same name with a different TLD. For example, if mystore.com is taken, you may want to check if mystore.biz is available.
You can also try changing the name slightly by altering your spelling or arrangement of words or finding synonyms. For example, if mystoreforyou.com is taken, you might try yourstorebyme.com, mystore4you.com, or myshopforyou.com.
Exciting, isn't it?
How to register a domain name
Domain name registration does not require that web hosting be purchased with it, just as web hosting does not require a domain name purchase through LaunchPad. You can choose to sign up for either one separately.
We created a video guide to assist with your domain name registration.
Register a domain via the Customer Portal
Log in to your Customer Portal.
Click Domains from the left menu.
Hit the Register a Domain button at the top.
You will be redirected to the Search Domains page. Enter the domain you want to register in the search box and click the Search button.
If the domain is unavailable, you may search for a different domain or add a recommended domain to your cart with the Add To Cart button.
If the domain is available, it will automatically be added to Your Cart along with Domain Privacy (if checked).
Privacy protection may be added or removed from your domain by clicking the + or x next to Privacy Protection in your cart. We strongly recommend keeping Domain Privacy to protect your domain's personal and business contact information. For more information about Domain Privacy, please refer to the WHOIS Information & Domain Privacy article.
You may search for additional domains you wish to register or click the Add To Cart button next to any domain recommendations.
Once your selection is complete, check your domain(s) to ensure their correct spelling. Please note that we cannot edit the domain name once it's already registered.
Click Continue to Checkout.
Select your preferred payment method and click Continue to Checkout again.
On the next page, you can select your registration term, set your name servers, and enter your discount code.
Select the checkbox for the Terms of Service, Domain Registration Policy, and Privacy Policy to confirm.
Click Place Your Order.
2. Register a domain via hostgator.com/domains
You can register your domain via https://www.hostgator.com/domains directly.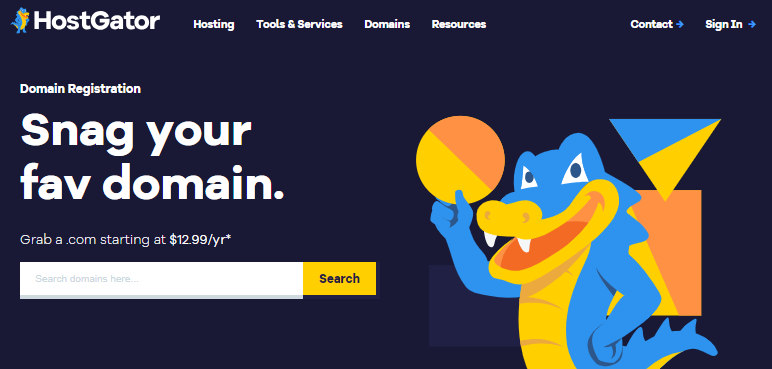 To register your domain via https://www.hostgator.com/domains:
Enter your preferred domain name and click on Search.
The front-of-site will check if your domain is available. If it is, you'll see the domain under the Your Cart section in the right panel (with Domain Privacy addon if it's checked). Don't forget to check the spelling of your domain name for accuracy! Click Continue to Checkout.
If you already have a HostGator account, proceed with the registration by selecting your payment method. If you do not have an account yet, you will be prompted to register. Once done with the account registration, select your preferred payment method.
Click on Continue to Checkout once again.
Review your Order Summary, where you can select your registration term, set your name servers, and enter your discount code.
Select the checkbox for the Terms of Service, Domain Registration Policy, and Privacy Policy to confirm.
Click Place Your Order to finalize.
If you require assistance from HostGator"s Support, please do not hesitate to reach out via phone or Live Chat.
Step 3: Validating your domain
Once the domain has completed the provisioning process, you will be required to validate your domain order. This is a necessary step in the domain registration process following the ICANN 2013 Registrar Accreditation Agreement. You will be receiving a confirmation email from LaunchPad.
Once the domain has been successfully purchased, you will receive a confirmation email for your payment.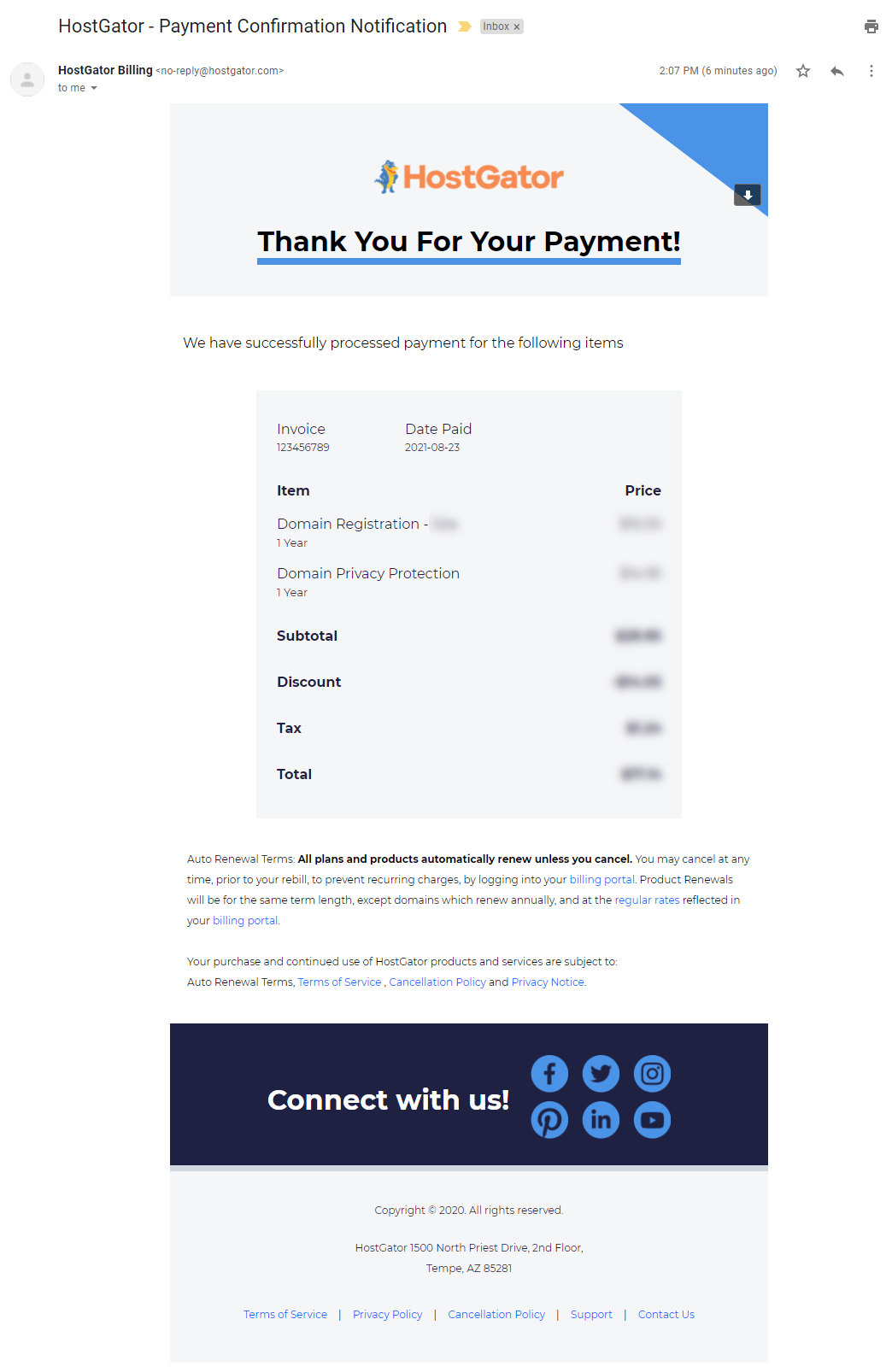 The sample image above shows the billing details of your domain registration and domain privacy (if included in the purchase).
Step 2: Check Your Emails
After the purchase, you will need access to your Customer Portal where your new domain name is. You will be receiving a Welcome email from HostGator with details on how to log in to your Customer Portal.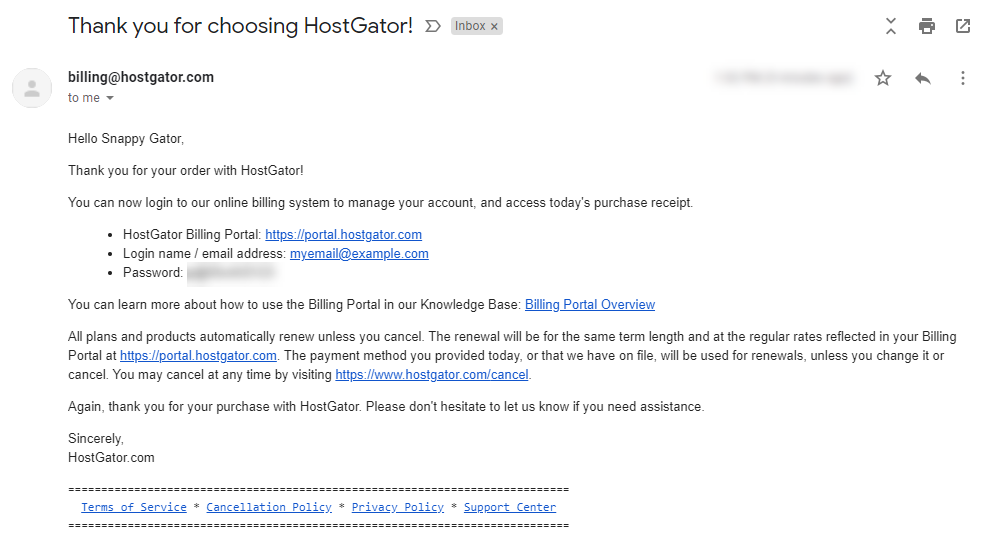 You will also be receiving another email for your domain registration validation from LaunchPad: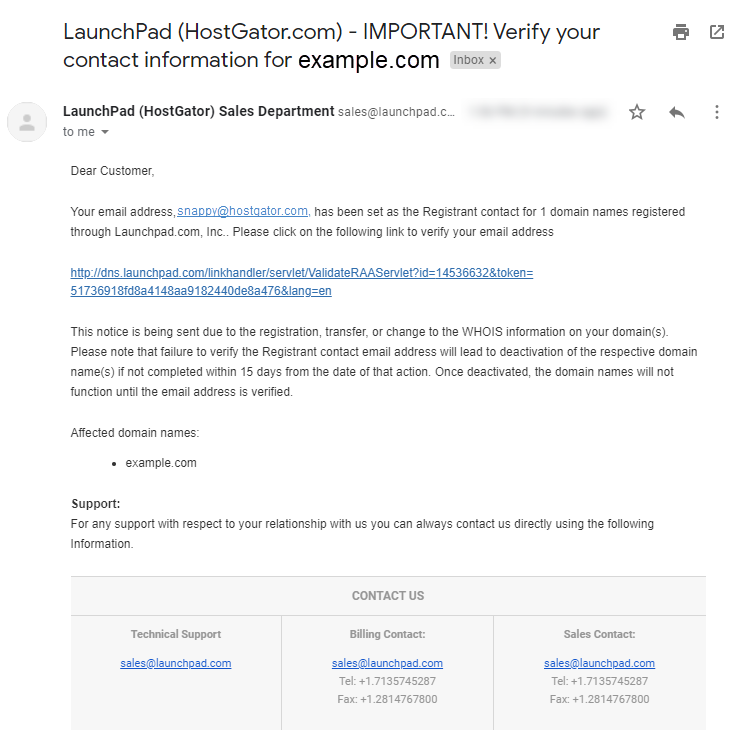 Step 3: Validate Your Domain Order
Once you have received the Domain Registration Validation email, complete the validation process by clicking the link within the email. If you did not receive the validation email, please do the following:
A confirmation page will be displayed, notifying you of the successful verification.
---