Create basic pages
There are some pages that all websites should have, regardless of their purpose or goal.
But first, how to even create a page in the first place:
To do that, simply go to your WordPress dashboard, and then Pages → Add New. You'll see this screen: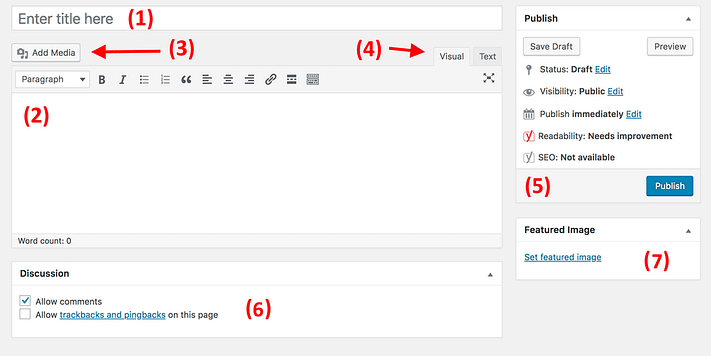 (1) A place for the headline of the page.
(2) The body section – the main content of the page. The interface is very similar to MS Word. You get all the basic text formatting features (like bold, italics, aligning text to left/right/center, creating lists, etc.).
(3) You can add images by clicking this button.
(4) Switch between the Text and Visual editors. Use the former only if you're at least vaguely familiar with HTML code.
(5) The Publish section. This is where the main Publish button is.
(6) Discussion. Decide whether or not you want to allow comments. The "trackbacks and pingbacks" setting you can leave unchecked.
(7) Featured image. Most WordPress themes take that featured image and display it somewhere in a prominent spot alongside your page.
When you're done editing the page's content, click on "Publish."
Now, with the how-to out of the way, here are the pages you should consider creating:
About – I've mentioned this a couple of times now since it's really an important one. Your About page is where you get to tell the story of what your website is and why people should pay attention. This one page is basically a must-have for everyone who wants to learn how to make a website.
Contact – this is where you can display some contact info along with a nice contact form, through which people can reach you directly (you can get such a form via the aforementioned WPForms plugin).
Privacy Policy – this page has become a hugely important element on today's web. Learn more about privacy policy pages in WordPress here.
Portfolio – a place for you to showcase your past work.
Store – a crucial thing if you want to sell anything from your ecommerce site. To make this work, you also need a popular WooCommerce plugin – the best e-commerce solution for WordPress.
FAQs – if the scope of your new website requires some extra information for potential users.