Get familiar with the WordPress UI
You can log in to your WordPress user panel if you go to www.YOURDOMAIN.com/wp-admin/
This is what you'll see: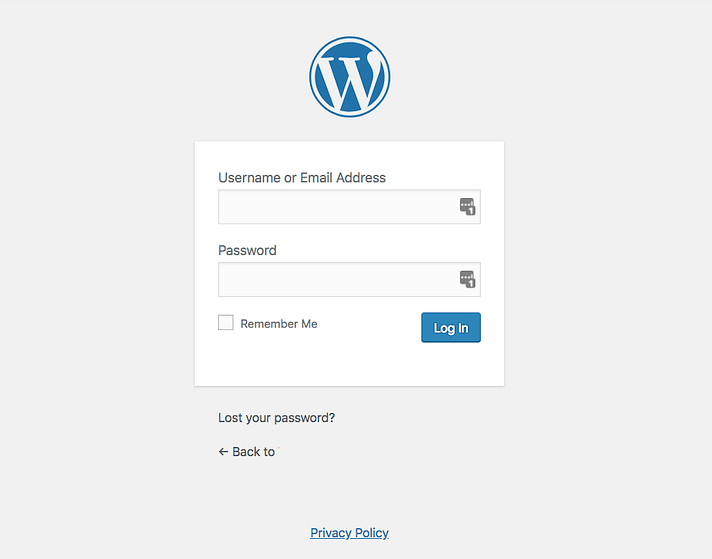 After logging in successfully, you'll see the main WordPress interface in all its glory: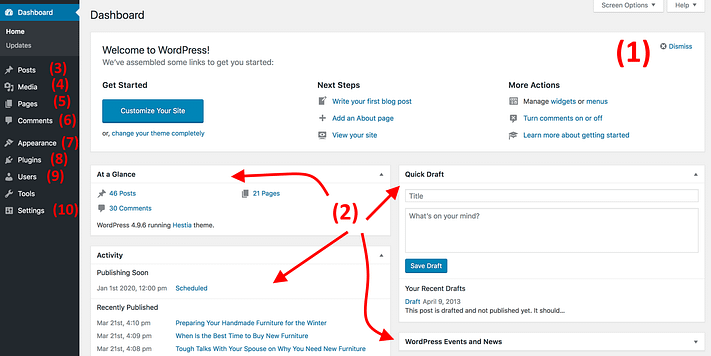 (1) Welcome message – Some of the most important areas of the admin panel listed as quick shortcuts links – these are usually your shortcuts to how to make a website.
(2) The current status of your site and what's going on with it.
(3) Posts – go here to create blog posts.
(4) Media – upload/manage images and other media files here.
(5) Pages – go here to create sub-pages.
(6) Comments – this is where you can moderate comments.
(7) Appearance – change your site's design here and/or customize how certain things are displayed on the current design.
(8) Plugins – install new plugins here.
(9) Users – manage user accounts that can access the admin panel of the website.
(10) Settings – the main settings.
At this stage, it's good to take care of some basic getting-started WordPress settings that will improve your experience further down the road.
a) Set permalinks
Permalinks define how the individual web page addresses – aka URLs – are structured within your site.
The most optimized structure is to have the page's title in the URL. For example, your "about" page (more on that page later on) should be available under something as simple as YOURSITE.com/about. Setting the permalinks correctly will allow you to achieve that.
To set your permalinks, go to Settings → Permalinks from the main sidebar in your WP dashboard.
Once there, select this setting: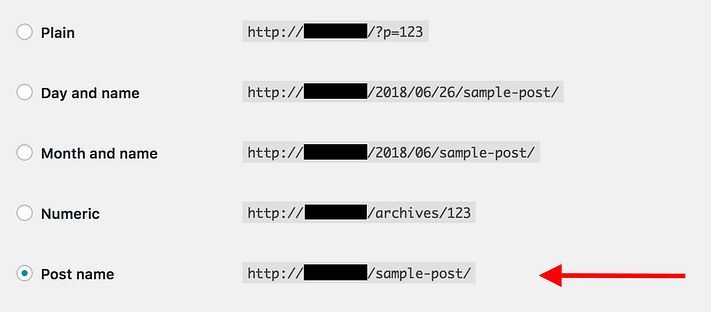 b) Making your site public
I guess you want Google to be able to find and index your website. To make sure that's the case, go to Settings → Reading, and make sure that the box labeled "Discourage search engines …" is unchecked.

c) Set your website title and tagline
Go to Settings → General and set the Site Title and Tagline fields to what you want.
Your site title and tagline might appear in various places throughout the site. Some WordPress themes display those on the homepage and in the SEO description – which Google uses when listing your website on the results pages.
The tagline is optional – you can leave it blank if you don't have one for the site. However, it's always part of the web design process, so it's nice to come with u suitable one.
d) Allow or disable comments
Whether or not you want to accept comments on your website is up to you.
On the one hand, letting readers leave their opinions and questions under your articles/pages can be great for building a community around the website. But, on the other hand, you'll also have your hands busy dealing with spam and making sure that there's no trolling. It's sometimes better to leave the contact page as the primary channel of communication.
Whether you'll end up allowing or disabling comments, it can be done in Settings → Discussion.

e) Disable pingbacks and trackbacks
I don't know why this setting is even still in WordPress. It's mostly a leftover from back in the day when pingbacks and trackbacks were a thing.
Though, if you want to learn how to make a website in this day and age, you can simply deactivate them by deselecting the following setting in Settings → Discussion.

f) Set your time zone
Setting your time zone correctly will make publishing new pages and posts more predictable.
Generally, you want to set the time zone to either where you're at or where your target audience is at. Whichever makes more sense.
You can set the time zone in Settings → General.
With the basic settings out of the way, we can get to the fun stuff: