Consider starting a blog
A blog (as well as marketing through content – aka "content marketing" in general) is among the most effective ways to promote not only your website but also any products that you might want to sell through that website.
And it's not just me saying this; there's raw data proving that blogs are a superior tool for marketing online, with 55% of marketers saying that blogging is their top inbound marketing priority.
Running a blog is a straightforward concept. What you do is publish articles related to the topic of your website and do it regularly.
From a technical point of view, WordPress has blogging tools built right into it from the get-go. In fact, WordPress started as a blogging platform.
To create a new blog post, all you need to do is go to Posts → Add New (from your WordPress dashboard).
The process itself of creating a blog post works nearly the same as creating a new page. The editing panel looks nearly the same (the screenshot below), and the options are mostly the same as well.
One of the few differences is that you can also assign your posts to categories and tags.
This is what adding a new blog post looks like:
Once you're done working on a blog post, click on "Publish."
To make your posts easily accessible, you should designate one of your pages to serve as the main blog listing for the posts.
To do it, first, go to Pages → Add New and create a blank page. Call it "BLOG" – just to make things clear.
Next, go to Settings → Reading, and select your newly created Blog page as the "Posts page" like so: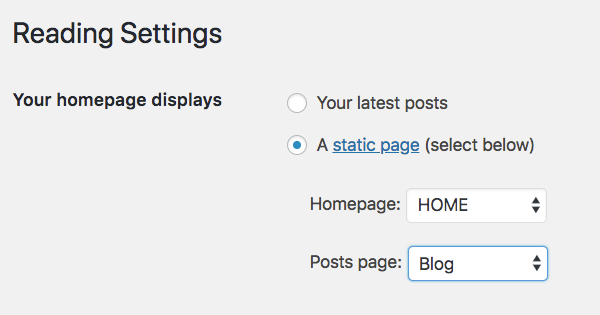 At this stage, you can navigate to that new page and see all your recent blog posts there. If you're going to create a lot of content for your blog, consider an SSL certificate, so that your readers feel safe while browsing through it.
Of course, the tough part about starting a blog is writing blog posts regularly and making them attractive for people to read.